DIPLOMATIC RESIDENCE
Location: Kensington & Chelsea, London, UK
Client: Private
Consultants: Elliot Wood Engineers, Scott Wilson Engineers
Construction Cost: £5.6M
[ PRIVATE SECTOR ]
[ 0623 ]
Major alteration and underground extension of a large mansion house in Holland Park.
Lower ground floor under construction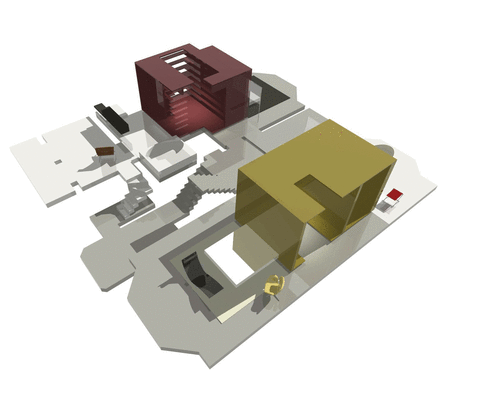 In the existing house, the scheme pursues the dual approach of careful restoration of the original listed building and the insertion of room-like contemporary elements manufactured off site and placed in the floor plan like pieces of furniture.
The 500 sqm extension to the rear of the property accommodates major new spaces including a large ceremonial dining hall, swimming pool, and related leisure facilities. The other-worldliness of the underground extension is exploited architecturally, with major rooms/halls reading as separate buildings set within an abstracted water landscape. A fully landscaped garden is reinstated over the extension.