Location: Iraq
Clients: Iraq Government, United Nations
Construction cost: Confidential
[ URBAN DESIGN / INFRASTRUCTURE / HOUSING / EDUCATION / CIVIC / HEALTH / COMMERCE ]
[ 1108 ]
Winning international competition scheme for the Iraq government and UN-HABITAT (United Nations Agency for Human Settlements). A fully integrated settlement for 3000 people is proposed including schools, markets, health centres, and a variety of green spaces and playing fields. Building designs are low cost, architecturally advanced, use local resources, and have sustainability ratings rivalling western standards. Novel approaches to vehicle parking and circulation allow a safe, fully pedestrian landscaped centre.
This masterplan proposes a safe, convenient, affordable, and beautiful community settlement for 3200 Iraqi people (536 flats). Community facilities are included in the masterplan further to the Ministry's guidelines on provision.
Modern construction methods and traditional aspects from Iraqi urbanism are appropriately applied throughout the scheme. A network of fully shaded pedestrian streets will protect inhabitants from the harsh sun, while circulation is orchestrated in a way to achieve a safe, fully pedestrian landscaped center. Local labor and materials will be used for construction.
Site Information:
Site Area: 11.0 ha
Units: 536
Density: 48.7 flats/ha
Parking: 559
1.04 spaces/flat
Height: 3 storey (4 storey at spine)
Housing Types:
High-density apartments
Terraced housing
Detached Houses
Facilities:
Primary school
Secondary/Inter. school,
Kindergarten/nursery
Souq & administration
Mosque
Health centre
Cafes
UNIT DESIGN
The housing unit design rises to the competition challenge of providing 2, 3, and 4 bedroom units to standard dimensions, with excellent family layouts, and at very low cost.
Modern western apartments only have perimeter windows and so little privacy to their neighbours. On the other hand, traditional Iraqi courtyard houses have excellent privacy but are difficult to air-condition and day-light (as circulation is to the courtyard) and cannot be stacked. The designs proposed here provide advantages of both types: privacy of outlook to dedicated lightwell gardens and terraces, but centralised circulation for efficient air-conditioning and access to the common vertical stair.
Two building types are proposed:
Type 01 (no parking)
Type 02 (parking under)
The competition is part of a larger program by UN-HABITAT and the Iraq government to construct new housing across the country.
ASSEMBLAGE has undertaken the following projects as a consequence of their UN HABITAT competition win:
Economic Settlement
High - density Settlement
Low - rise Settlement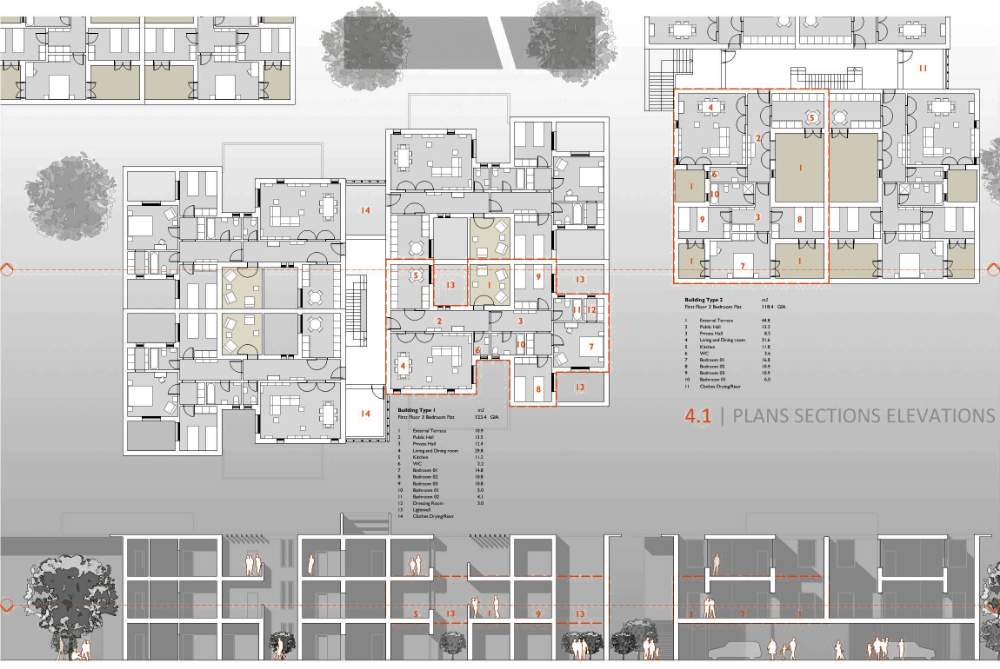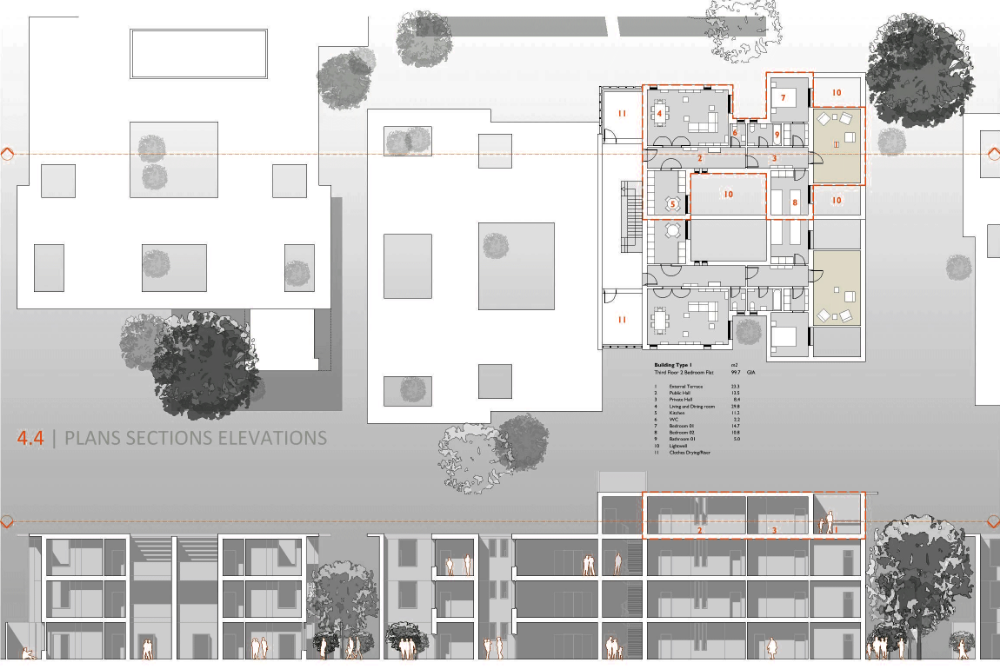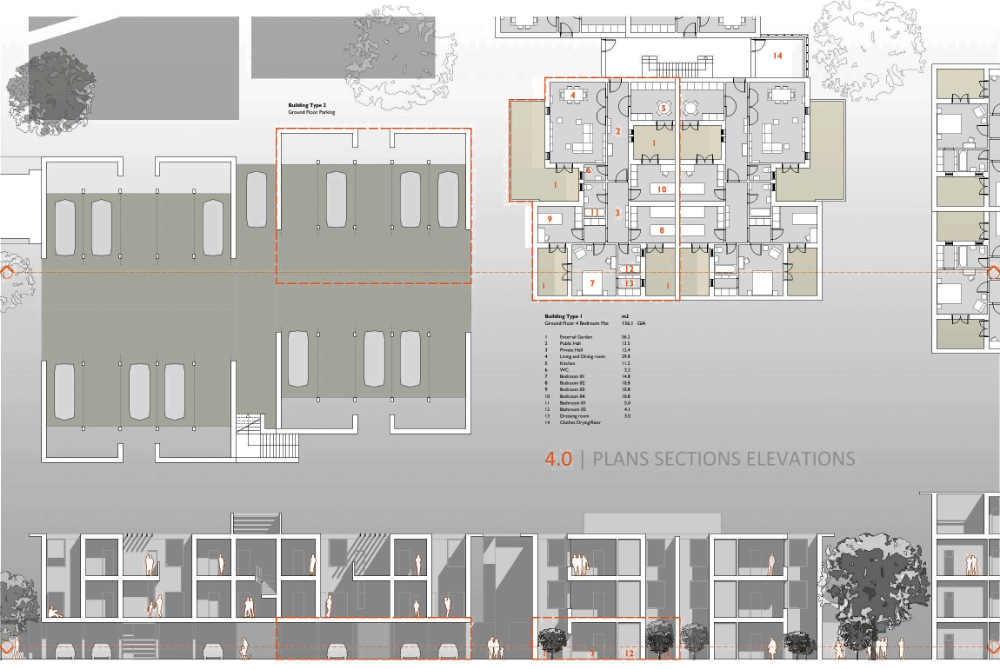 RESEARCH . NEW SETTLEMENTS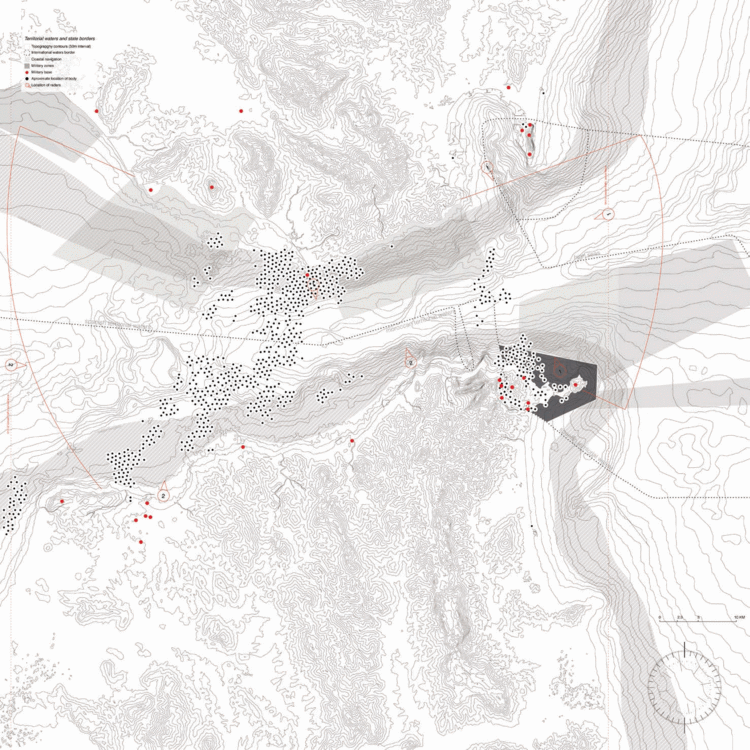 OVERLAPPING TERRITORIES
Location: Tangier, Morocco
Research Student: Iulia Fratila, UCL BPro MArch UD RC12 2012/13
[ RESEARCH / URBAN DESIGN ]
"Every year thousands of 'irregulars' die trying to cross the Strait of Gibraltar. Every day 30,000 Moroccans cross the border of Ceuta to 'offer' themselves as cleaners, traders, smugglers. Much like other areas in Africa, this is a country which still struggles with poverty. The '97 Declaration of Barcelona brings up a new tool for fighting the root causes of migration to the north i.e. the establishment of free-trade zones in the south.
As an immediate effect, we see the apparition of the Ceuta fence in 1998 and the 'electronic wall' along the coastline as predictions of the primary special economic zones that have been set up in the past years in the Tangier-Tetuan area.

Modelling of the free zone market in this context of increasing social inequality and militarisation of borders, this project starts by questioning the city's relationship with its forbidden hinterland and how it relates to the far territories, and asks, can this spatial binary between Morocco and Spain be reversed?
The proposal acknowledges the Moroccan government's plan of building a new commercial free zone near the border of Ceuta and tries to shape it into an instrument for social development, not only economic growth. The project proposes scenarios in which this exceptional space (juridical and economical) could feed the traditional space of the street market.
Studying the rate by which Fnideq has been growing and setting
the aim of providing a new opportunity for its inhabitants in
terms of jobs and housing, the design was conceived as a
new neighbourhood of approx. 10 000 people, which could
accommodate enough commercial spaces to create the minimum
amount of 3000 new jobs (the approx. number of smugglers that deal with border commerce).
'Overlapping Territories' Iulia Fratila, UCL BPro MArch UD RC12 2012/13
Spatially, the neighbourhood occupies the valley and is defined
by two urban grids - the "carved" one for the free-zone and the
overlaid "constructed" one for the residential blocks.
The limit for the proposed development is set to maximum of
6% slope in the cross section, to ensure pedestrian and disabled
access even to the edges of the neighbourhood. The main spine is set through successive sections so that all the segments ensure the max 12% slope for car access, but a preferred 6% is maintained as to also accommodate the generous pedestrian side walks. The secondary streets are set perpendicular to the main commercial axis and will ensure a more "local" character. All streets (except for the large retail area and the coastal plaza) are thought to be used as a shared space for cars and pedestrians." IF